History of the ReStore
The ReStore in Leominster opened it's doors in January of 2011 as a fundraising division of Habitat for Humanity of North Central Massachusetts. Beginning in 2013 the ReStore started to work on it's potential and transformed the space into a beautiful retail outlet that is clean and organized. With the generous support of our volunteers, staff, partners and sponsors such as Amica Insurance, Aubuchon Hardware and Dawson's True Value Hardware, we have decreased the warehouse space and increased the sales floor from 8,000 sq.ft. to 14,000 sq.ft.
What is the ReStore?
The ReStore is a discount home improvement center open to the public that accepts donations of new and gently used items from individuals and businesses in the community, and sells those items to the public at a reduced cost, usually 50-70 percent of the original retail value. All profits go to support home ownership for hard working, low income families in North Central Massachusetts, while keeping good, reusable materials in use and out of the landfill.
Our Mission
Through the selling of donated items:
Increase the number of homes built for hard working, low income families through Habitat for Humanity of North Central Massachusetts.
Keeping good and reusable items out of the landfill.
Provide quality materials to the general public at discounted prices.
Bringing people together to build homes, communities and hope.
Our Motivation
Giving families hope is our foundation of what makes us thrive. There is not better testament to the importance of our work than the stories of the families whose lives have been changed by owning an affordable home. We invite you to meet a couple of our partner families.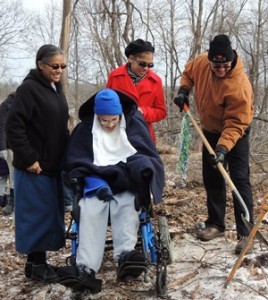 The Rivera & Rodriguez Family
Juanita Rivera and Aldum Rodriguez and their two children, Emmanuel and Zuleyka (23 and 22 years old) were thrilled to learn to become a Habitat homeowner in Fitchburg. Their son is severely handicapped and it was Emmanuel's social worker that suggested to submit an application and were accepted 2 years later. They have been living in public housing for 12 years now where they have to lift and carry their son to the bathroom and other rooms.
Juanita: "I am grateful to Habitat for Humanity and all the volunteers. It means so much to us, especially having a handicapped bathroom for our son. My daughter is so happy to have her own room since her brother always snored so loud. Our lives have truly changed forever and we are very optimistic for our future that includes living in our own home"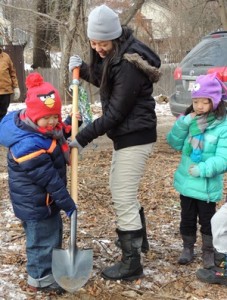 The Lea Family
Bea is the mother of three young children, 4-6 years old and they live in a one bedroom apartment in Fitchburg. Bea is from the Hmong culture and married very young and then separated from her husband two years ago. She had to begin a new life with no financial resources of her own. Bea is working very hard to rebuild her life to provide for her children as a single mom. She is a teller at Rollstone Bank and Trust. Bea applied for a Habitat home and was selected as our next partner family in September of 2013. Her home will be part of a duplex build neighboring the Rivera & Rodriguez family.
ReStore Director Werner Thissen: "I got to know Bea when she started volunteering here at the ReStore as part of her sweat equity commitment. She is a wonderful woman and mother that deserves a home for her family. Bea still can't believe that there are so many people volunteering at our organization just to help her have a better life. I remember her tears while talking to her about her former marriage and children, telling me that she felt being stuck and trapped without a future. Her tears made me remember what home really means and I am so thankful of being a part in helping her and her children to have a great and awesome future."